published: May 12, 2011 — tags: skniin, sgh
Posters for SKNIIN
This page collects most of the works that I have done for the Real Estate and Investment Student Interest Group, which is based at the Warsaw School of Economics.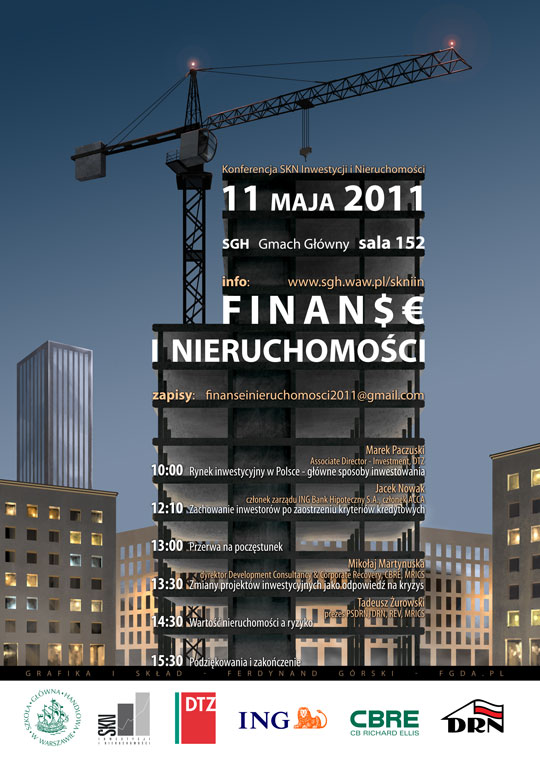 Finanse i Nieruchomości
I have created a poster for 2010 and 2011 editions of the Finance & Real Estate conference using a Wacom tablet. Doing the background yourself has several benefits, among them the possibility to have it precisely tailored to the text content. In this case the building that is being built has exactly the right amount of storeys to facilitate the whole programme. It being narrower at one point is no coincidence either - by doing that the word FINANSE could fill the whole width like I NIERUCHOMOŚCI without appearing excessively stretched.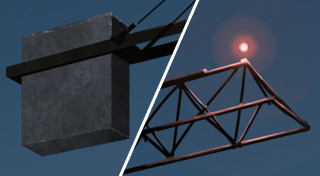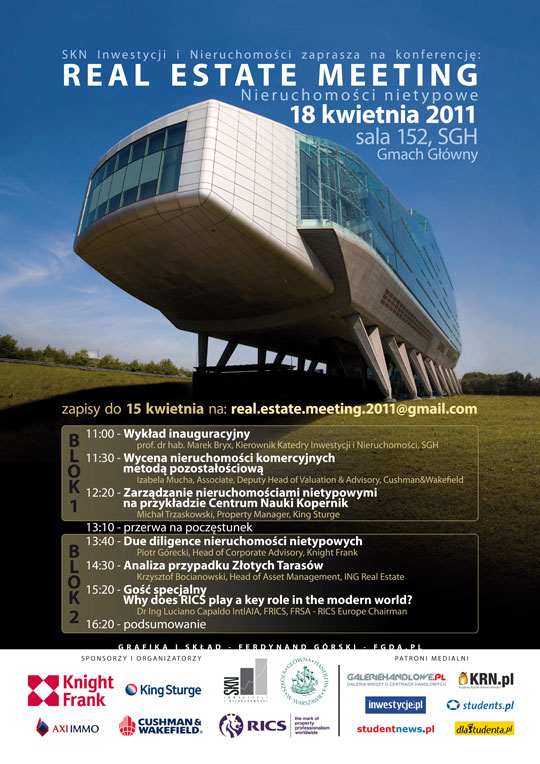 Real Estate Meeting 2011
Untypical Buildings was the subject of this conference. ING headquarters in Amsterdam definitely falls into this category. I was lucky enough to find a photo of this building from a very good angle. All that needed to be done was adding to the background over and under this picture.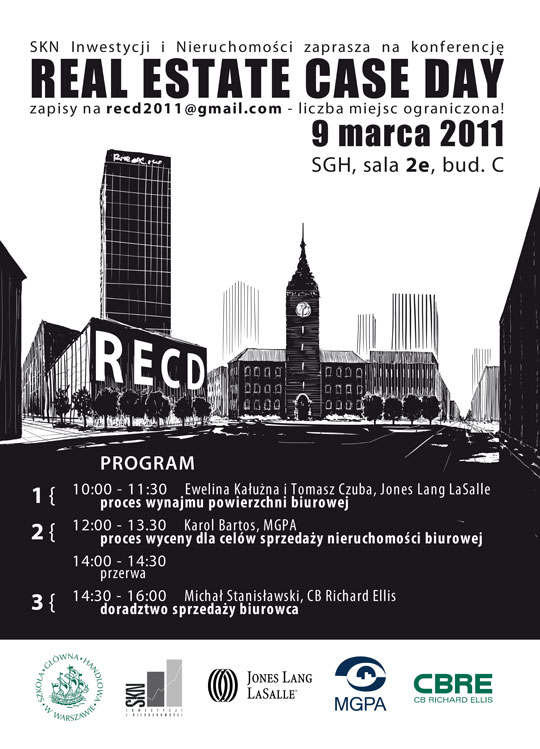 Real Estate Case Day 2011
Once again I had the pleasure to create a poster for RECD. To do things somewhat differently, without resorting to stock photos again, I have decided to make an old fashioned ink and pen drawing... except that it was done entirely with a computer and a graphic tablet. Detail below.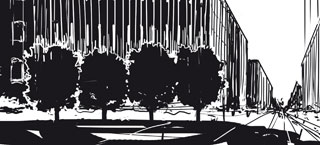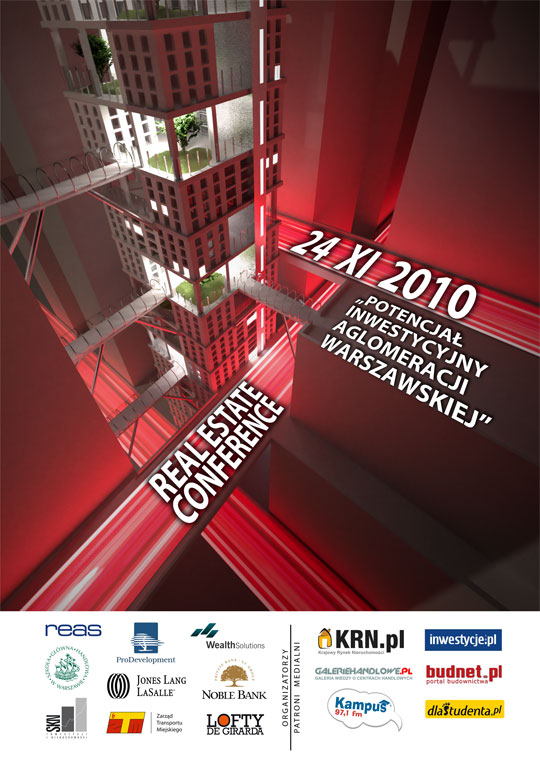 Real Estate Conference 2010
The theme of this conference was Investment potential of the Warsaw Agglomeration. I decided to have some fun with it - what potential there would be with little space left in the cities? Urban sprawl is a disaster but we could always expand vertically. But maintaining scale would be an important factor because not many people like living in skyscrapers. I have created a rendering of one possibility - a building comprised of stacked housing blocks only 4 floors high, each with their own courtyard. Additionally such building could be connected with other buildings on multiple levels using foot-bridges, creating a town of multiple layers.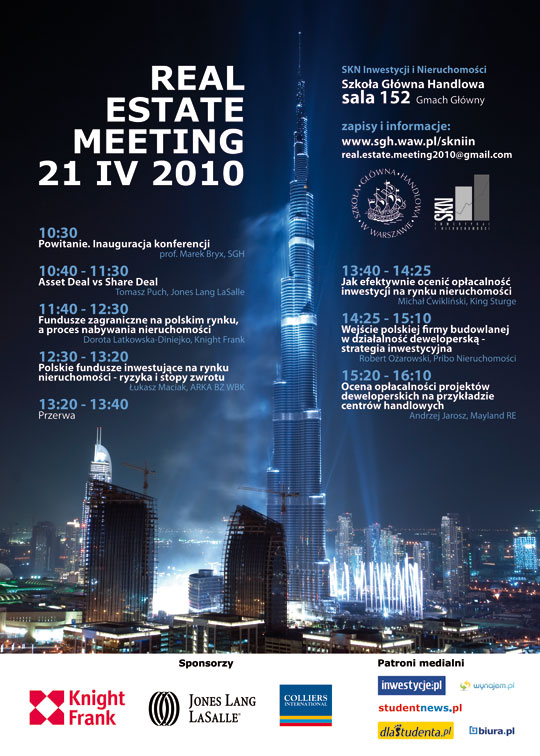 Real Estate Meeting 2010
This 3-day event required something spectacular to be its graphical theme. The idea of using a photo of Burj Dubaj, currently the tallest on-land structure ever built, was embraced immediately.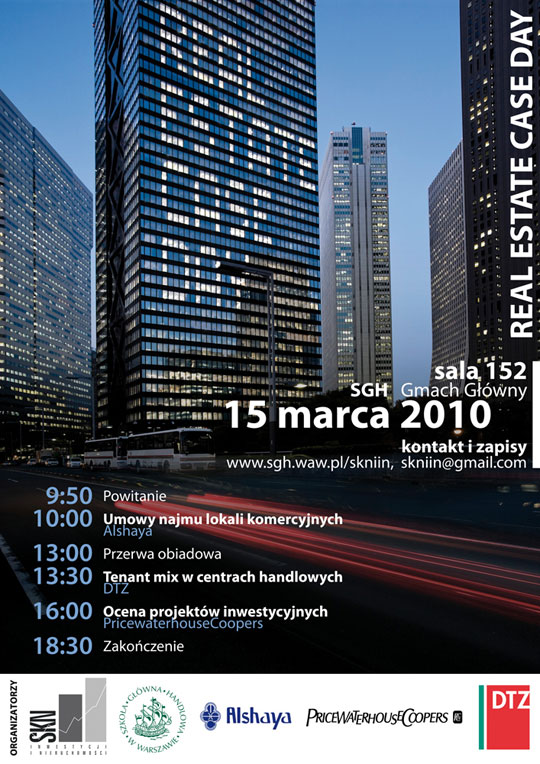 Real Estate Case Day 2010
This is the first poster I have done for SKNIIN. Its starting point was a file from iStockphoto. Then the lights in the building were switched on and off using Photoshop to recreate the conference title on the façade.
Trivia: When it turned out that in addition to this A1-size poster also A6 fliers were to be done, the building had to be made higher by a few storeys due to relatively bigger bleed, so that the word "REAL" isn't cut.